The Seamless Donations Colorful Donation Forms extension provides 20 vibrant form styles for your Seamless Donations donation form. Features include:
Ability to choose from 20 different color designs
Fully responsive forms that reconfigure appropriately for smaller, mobile screens
Ability to replace form image with one of your own choosing via the standard WordPress media chooser
Updates the standard grayscale Modern style with the ability to add a custom image
Complete compatibility with custom giving levels from Giving Level Manager
Instant selection of new form styles without any coding, HTML, or CSS
Tested compatible with IE11, the new Edge, Chrome (Mac and Windows), Firefox (Mac and Windows), Safari, plus mobile Safari and Chrome
20 Vibrant Form Styles
You may only use one form style at a time, but you can choose from any of the following styles. If you have installed Beautiful Donation Forms, you may also choose from those form styles.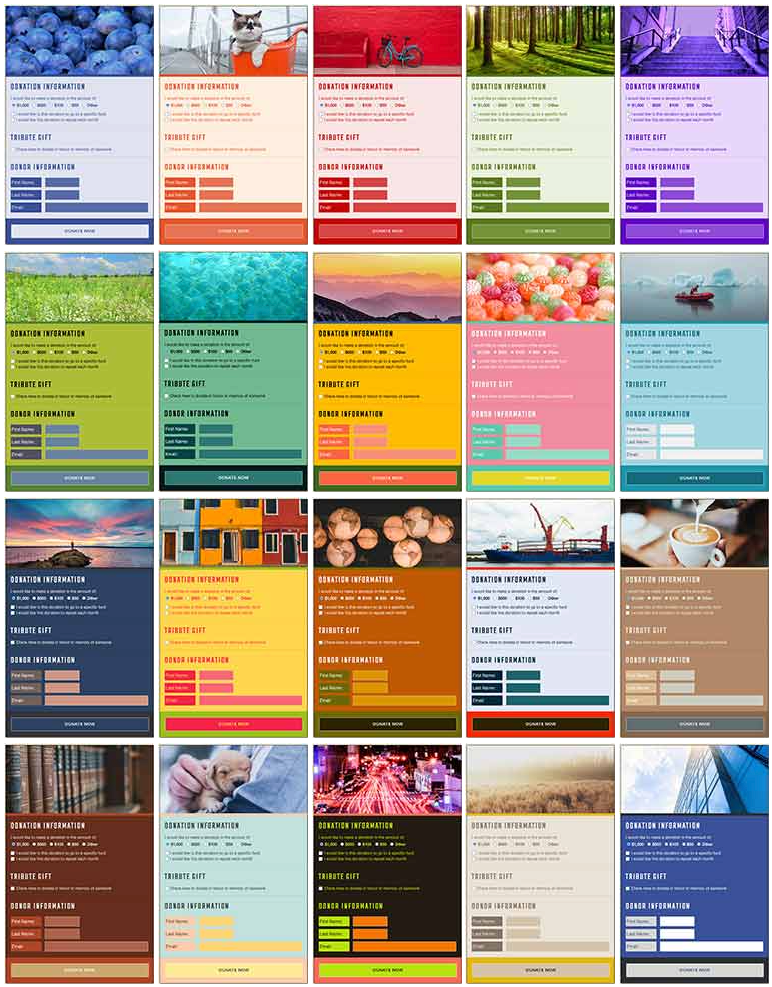 Video Tutorials
The following 2-minute video shows you how to install and enable the Colorful Donation Forms add-on on your Web site. The video walks you through another add-on, but the procedure for Colorful Donation Forms is exactly the same.
Requires
Seamless Donations 5.0.10 or above.
If installed, Giving Level Manager 2.0.2 and above.
Licensing Terms
This product is licensed for one year. During that time, you will get free, automatic updates and free support specific to this extension. General Web site, WordPress, HTML, life balance, and CSS support is not included.
If, during the first 30 days after purchase, you are not satisfied with this product for any reason, you may return it for a full refund. Refunds will not be granted after 30 days.
When purchasing this product, you understand we can't warranty it to be functional in the complex and dynamic world of WordPress (that's why we offer a refund). That said, we have tested this product extensively and, in our experience, it's pretty darn spiffy and works like a charm.
Pancakes not included.