I've been asked this question a lot, and while there have been some export plugins available, none make the process as simple as the one I'm about to show you.
Export any WordPress data to XML/CSV
The plugin is called Export any WordPress data to XML/CSV by user soffly. It's got a ton of installations and a review average of 4 1/2 stars. There is a pro version, but you should be able to export donor information with the free version downloaded from wordpress.org.
Go ahead and install the plugin and activate it. You'll see a new All Export menu in your dashboard. To begin an export, click that menu and select New Export.
Export steps
You'll see a screen that lets you choose between Specific Post Types and WP_Query results. Choose Specific Post Types and then, from the drop-down menu, choose Donors.

Click the blue Customize Export File button to go to the next screen. This will give you the opportunity to choose which fields to export. My recommendation would be to hit the green Clear All button first, to give yourself a clean slate to begin your export.
On the right, you'll see an Available Data section and you want to look at Custom Fields. The fields that begin with _dgx_donate are the postmeta fields associated with Seamless Donations. To create a mailing list, drag in _dgx_donate_donor_first_name, _dgx_donate_donor_last_name, _dgx_donate_donor_email, and anything else you want to export.
In the example below, I chose to populate my export with all the mailing list information available, including physical address, if provided.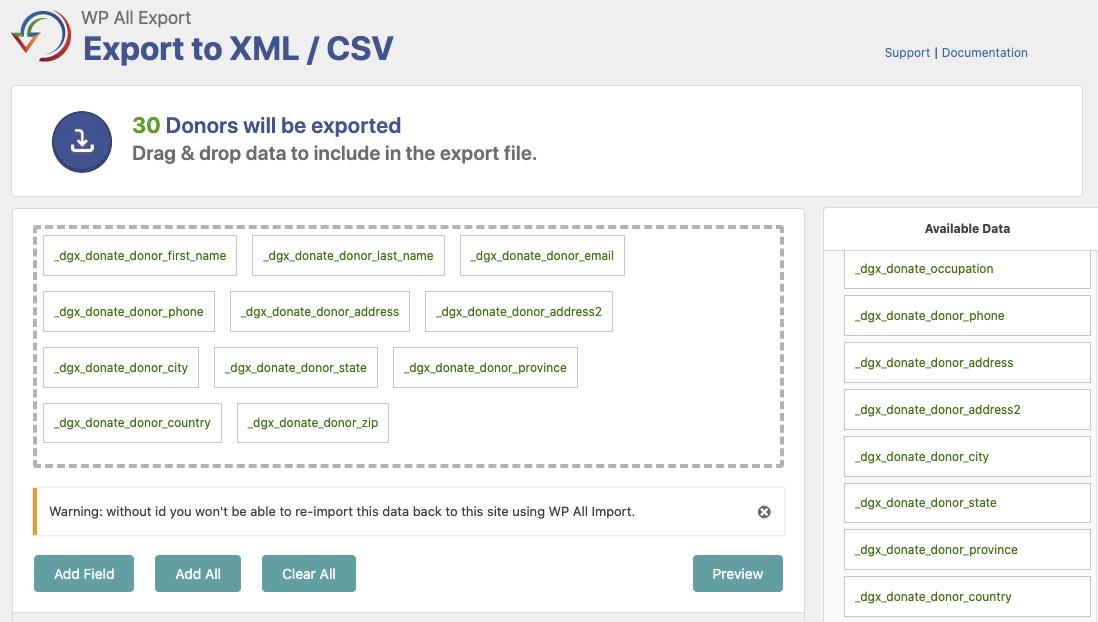 Then, it's just a matter of completing the export. Hit the blue Continue button to go to the next screen. Then hit the green Confirm & Run Export button. Then hit the blue CSV button to download your list.
Pretty simple and pretty straightforward.
–David